Men continue to dominate upper management positions, but businesses also need the talent and diversity women can bring to drive bottom line results. With a focus on flexibility, things could change for the better.
The debate surrounding "women in the workplace" has changed in recent years. The case for more female hires and more women in leadership positions is now rarely made on moral and fairness grounds. Instead, the argument is a business one, built upon the increasing acknowledgement that greater leadership diversity is good for the bottom-line. The logic is fairly simple; women are not a minority. They represent more than 50 percent of the human population, and they are as educated, ambitious and able as similarly situated men. As such, if a company has an all-male leadership team then the likelihood is that it has not attracted or retained the top available talent.
The topic of women in the workplace was tackled by Borderless during a presentation at the CPhI Women in Leadership forum in Barcelona, Spain (1). Borderless is a search and management consulting firm that specializes in bringing talented, globally-minded leaders to client companies in the life sciences and chemical sectors. In the life sciences industry alone, women actually represent 60 percent of new hires, but begin to be far outnumbered by men as early as the senior manager level positons and above. In fact, the higher up the ladder you look, the greater the discrepancy – and when you see statistics showing how women drift off as you move up the career ladder, you can't help but think of all that wasted talent.
Tackling this problem is a business imperative. We should all be asking ourselves, "What could this wasted talent accomplish if it could be retained?" Diversity brings different perspectives to the workplace, which become increasingly important at higher leadership levels. By introducing new and different ways of thinking to management and board level positions, companies can become more innovative. As well as helping clients attract and retain diversity minded leaders (both men and women), Borderless also advocates that it is time for corporate cultures to embrace a new concept of career flexibility for workers – and for professionals to begin expecting and asking for it.
The business case for flexibility
The world of business – especially in the life sciences industries – is undergoing a number of dramatic changes that actually support a more flexible approach to careers and career progression. Such an approach to careers has already been embraced by the tech industries, which are increasingly moving into the healthcare sector and intensifying the competition for the available talent. As a result, non-linear careers and careers in phases – which have often been needed for female professionals with family responsibilities (an estimated 80 percent of women) – are becoming more commonplace for all workers, particularly in light of the fact that both men and women in the millennial, post-millennial and Gen-X generations tend to favor flexibility over pay as they prioritize work with other life ambitions. These generations tend to expect and seek work environments with greater diversity and room for individual contribution and expression. When employers accept the idea that careers can progress in phases – rather than in straight lines – the pipeline for upper management positions can evolve quite differently – and is often favorable to the inclusion of more female professionals. This move away from traditional, vertical career paths, however, means that more industries will be competing for talent – pharma needs to make itself attractive with flexible environments if it wants to attract and retain the best workers.
Shifts in stakeholder demographics are another reason for pharma to support efforts to increase flexibility. For example, one particular challenge for the life sciences industry is the growing importance of patient centricity and caregiving, which is leading to a change in the kinds of skills and insights that are required for key business decisions and strategy. It is well-known that women are often at the center of patient-centric decisions in the family, such as choosing healthcare providers for their families and making healthcare decisions. Women, therefore, as well placed to offer valuable insight and perspectives in patient-related decisions.
"What could this wasted talent accomplish if it was retained?"
The recent appointment of Emma Walmsley as CEO of GlaxoSmithKline is a recognition of the trend towards patient centricity. Ms. Wamsley has no scientific drug development skills and was not hired because she has the next blockbuster in hand, but because of her strong marketing background in a consumer-focused business environment. She has spent much of her career in an environment at L'Oreal, where the customer is the center focus. Pharma companies need employees who can understand and work within this customer-focused framework.
Asking for what you need
Traditional work environments and lockstep careers have never been the friend of the female professional – and this will not change in the near future. With an aging demographic and longer life expectancies, care for children and aging family members is a growing concern for all workers, of course, but it remains a particular challenge for women, who continue to shoulder the primary responsibility for such care-driven activities. While hard work, talent and ambition remain the keys to career success, it may not be enough in an environment that also lacks flexibility to enable professionals to meet other demands in their lives. Female professionals should seek out and support environments where it is acceptable to ask if there is a different, more efficient way they can work that does not compromise performance standards.
Getting to Know the Authors
What is your background?
Rosalie: I started out as a registered pharmacist in the US working in a large clinical teaching hospital. Then I went into the pharma industry where I worked on transdermal drug delivery studies, which were fascinating, but the loneliness of research just wasn't a fit for me. I moved into pharmaceutical sales for some time and then went back to school to get my law degree.
June: I was born in Sweden and I actually started reading South East Asian Studies at university, but then I decided that I wanted to study abroad. I went to Germany and ended up doing a master's in clinical science and economics. My big passion at university was reproductive health, but from the perspective of control rather than a science perspective. With that in mind, I went to India to conduct research.
What led you to Borderless?
Rosalie: After getting my law degree, I went into big international law firms and made my way up to partnership. I worked on labor employment law, where I developed a passion for the employment relationship. I also did a lot of work with discrimination and sexual harassment – and I became very involved in issues that affect women in the workplace. When my husband had the opportunity to take a job in Germany, I left the law firm. Our children were five and eight at the time, so I threw myself into being a mother and in learning to live internationally. Once we moved to Brussels, my children were getting older so I decided it was time to go back to work – and I ended up at Borderless. I came to Borderless with 20+ years of experience and I think I am a good example of someone who has engaged in her career in phases.
June: After working for the German development agency in India, I had the opportunity to join a start-up company in the tech sphere as the human resources (HR) manager. I had never done HR before, but I took the plunge and it was a great learning experience – I built the processes from inside out and was responsible for all the recruitment. I met my husband while in India and his company offered him an opportunity in Brussels, which is where we ended up, and where I found Borderless.
What made Borderless a good fit?
Rosalie: The Borderless role combined my life science, employment and expat background. I did a lot of litigation when I was a lawyer, so I was very much working at the death of the employer/employee relationship. Now I'm at the birth of the relationship when people are excited to get together. Most of all, I'm really motivated to help people meet their potential.
June: Borderless was great in that it brought together lots of the elements I've learned over my career – particularly my international background and my HR experience. I enjoy getting to know the client and finding out exactly what their needs are (they usually don't know!), as well as exploring where people want to go next, where their passions lie, and how they might fit into an organization. Helping that process is extremely satisfying.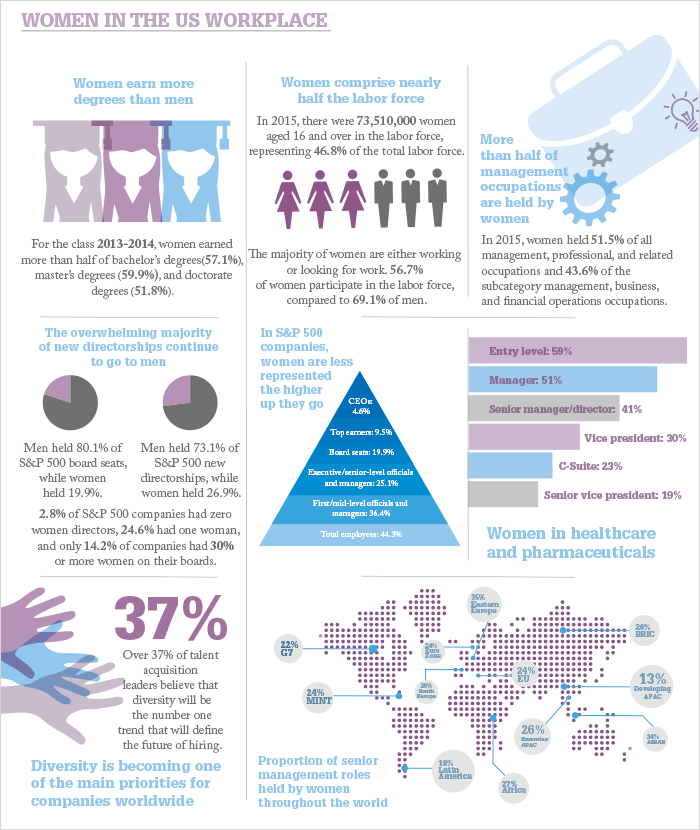 Information sourced from: Catalyst, "Women in the workforce: United States", (2016). Available at: http://bit.ly/2hXGupW. Last accessed January 6, 2017. LinkedIn, "How hiring women has changed over the last 8 years", (2016). Available at: http://bit.ly/2f1Gnai. Last accessed January 6, 2017. McKinsey Quarterly, "Breaking down the gender challenge", (2016). Available at: http://bit.ly/22DkoGs. Last accessed January 6, 2017. Forbes, "Today's gender reality in statistics, or making leadership attractive to women", (2016). Available at: http://bit.ly/2hXJ0fO. Last accessed January 6, 2017.
During the CPhI conference, Borderless provided a few real-life examples to inspire female professionals to seek the flexibility they need. One way to find flexibility is to establish it early in the working relationship. When looking for a new opportunity within your organization, make sure that they know you're the right person for the role. How? You must understand your own value and, crucially, know how to put it into context and communicate it. Think creatively about what you need to be successful in the role and ask for it – the key is to make a compelling business case. One example from Borderless related to a managing director of a pharmaceutical company. She was asked to take on a new role at a time in her life when her children were still very young. She was very keen on the role and her employer was keen for her to take it up, but she also needed and wanted time to dedicate to her children. She boldly asked for a work schedule that would enable her to work from home on Wednesdays. Although she faced some initial skepticism, she argued passionately for a period of six months to prove that she could make it work. Her employer obliged and, sure enough, she was successful. Put simply, it's a case of knowing you can do a job well and asking for what you need. At the same time, employers need to trust the judgment of valued employees.
In a second example, Borderless approached a female professional for a leadership role at a pharma company. It was a dream job and fit with the candidate's expertise, but she would not even consider applying for the position because the travel requirements did not fit with her family responsibilities. Borderless encouraged this female professional not to get discouraged about the travel, but to think creatively and flexibly about how she could work in a different way. When given permission to think flexibly, this candidate developed a robust system for communicating on a regular basis remotely utilizing the latest technology available, which reduced travel costs and promoting efficiency for her entire team. While some travel was still required, this professional – by asking for flexibility – proved that it was possible to execute the role successfully completely differently from her more traditional male predecessor.
In short, build your case, think creatively, expect flexibility and don't be afraid to ask for what you need to do the job, keeping in mind, of course, that performance standards must be maintained.
"Employers need to trust the judgment of valued employees."
The way forward
The above examples demonstrate that creativity, when coupled with flexibility, can lead to mutually beneficial arrangements. Organizations need to create an environment that attracts the very best talent – and that means meeting the needs of an increasing number of female professionals and new-generation workers who value flexibility over pay and see diversity as a fact of life. As a company positioning itself for success and competitive advantage, you should be strategically focused on your organization's flexibility. Do you have open doors for women (and men) who have taken a career break? Are you willing to take a chance on someone who wants to work remotely to reduce travel? Successful organizations tend to be the ones that differentiate themselves in terms of flexibility. Your hiring strategy shouldn't be a box ticking exercise with the goal of filling an arbitrary quota. Instead, by combining a strong emphasis on diversity of opinion, experience and mind-set with a flexible process that gives people the chance to prove they can perform, you can maximize your chances of attracting the very best talent and creating a strong and dedicated team.
By James Strachan, Rosalie Harrison and June Nilsson